{I'm posting my February Challenge a bit early, I have something else fun scheduled on February 3rd – be sure to stop in!}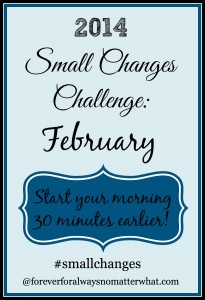 {This post contains affiliate links}
A new month and a new challenge! A small change, not meant to overwhelm but to encourage you on your journey.  The goal I set for myself in January was to get back in the habit of getting up early in the morning.  I'm happy to say that a majority of days I did just that and what a difference it makes! For me it's not about getting more done as much as it is about bringing more peace to our day. When I have gotten up and taken care of the things that are important to me, then I'm better able to focus on the people that matter most throughout the rest of the day.
That brings me to the small change for February: I encourage you to get up 30 minutes earlier than normal.
Making an effort to be ready for the day before the children are up and ready for the school day makes a big difference.
If you are not a morning person, then this can seem like a big challenge!  I encourage you to give it a try for the month of February.  If you normally stay up late, getting up early will be difficult for a few days.  Give yourself time to get adjusted to getting up a bit early and going to bed a bit earlier.  You WILL feel tired for a couple of days, stick with it and the benefits will be worth measurable.
An Extra 30 Minutes in the Day
Here are some suggestions for those 30 minutes you are carving out for yourself in the morning:
Prayer Time – use the quiet of the morning to start the day with prayer. For many years my in-laws have gifted me a subscription to Magnificat. Another powerful daily devotion is In Conversation with God – this would make a great read for Lent!
Exercise – my day just isn't right without a daily dose of exercise. If you need some suggestions, let me know!
Start Laundry – tame the never ending beast by getting started early.
Set out Breakfast – if your children are old enough to do most of breakfast on their own, what a bonus! Set out what you'd like them to have or get something started. Just like planning for dinner, knowing what's for breakfast just makes the day go a bit more smoothly.
Prep for the Homeschool Day – pull out materials for the day, perhaps even plan for the coming weeks.
Work on a Project – why not start a project you have always wanted to do yet never had the time to complete?
How did you do with the goal you set for January?  Are you in for getting up 30 minutes earlier in February?