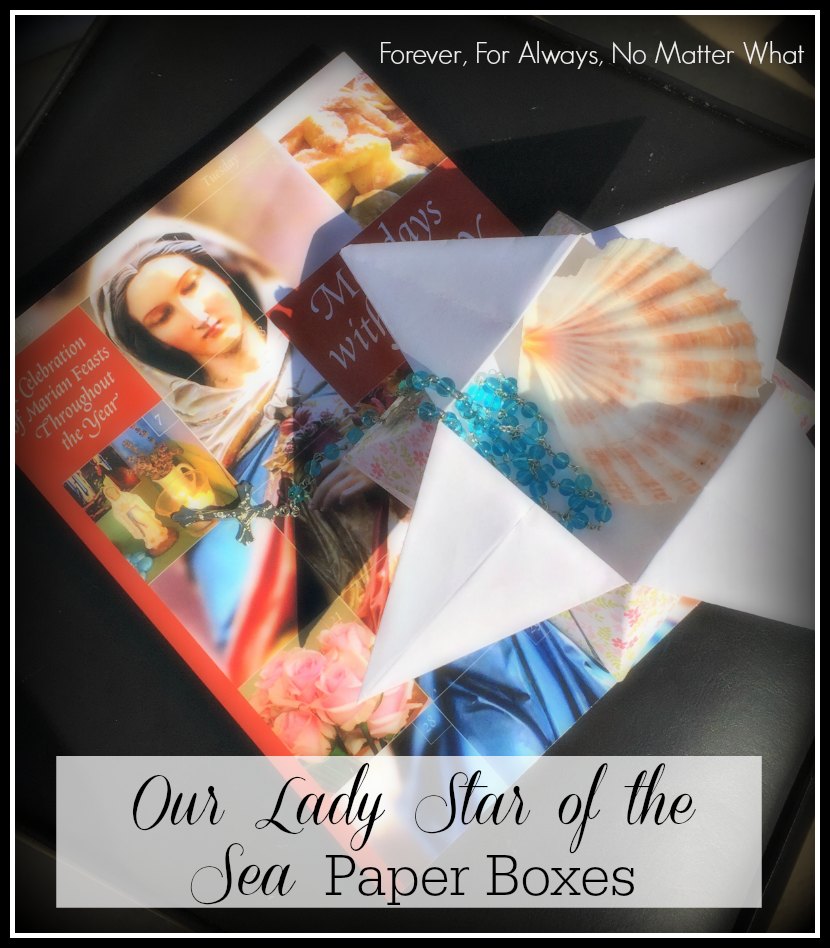 (contains affiliate links – I was given this book for the purpose of the review, but the thoughts and opinions are all my own)
Several years ago, one of our staples in our homeschool week was our tea times. They weren't fancy or elaborate. Usually didn't involve much prep work from me at all, but yet the kids loved that time. It's something they often ask for over and over again. Are we ever going to do tea time again?
Liturgical Tea Times
Honestly, I felt a little lost over where to begin again. Last time our tea time had a focus on our Letter of the Week. I picked a snack that corresponded to our letter for that week. That was easy! Well, now we are beyond letter of the week in our homeschooling journey, so what to do?
Thankfully along came Meredith Henning's book Mondays with Mary. What is Mondays with Mary?
"This book represents a collection of ideas for you and your family to try this practice of spending time reflecting on the life and heart of the Blessed Virgin Mary."
Meredith guides her reader through the simple ways to get started celebrating Marian Feast Days:
1. Create a Marian space – ideas and tips
2. Prepare a tea time recipe – she provides a delicious recipe for each feast day
3. Choose a devotional activity – an idea for a special activity for each feast day
4. Learn more – she suggests an additional book or DVD that could go along with the celebration
All of these simple, yet powerful ideas can help us to learn more and reflect more on our Mother Mary. In turn we share and teach these wonderful feast days to our children. Whether you are a seasoned feast day celebrator or it's a journey that you are just beginning in your family, this book will breathe new life into liturgical living.
When I was thumbing through the book looking to get started, Our Lady Star of the Sea caught my attention. Naturally, it's the name of our school!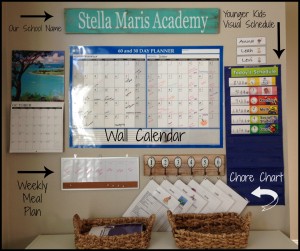 I was even more excited when I saw the craft that was attached – a paper craft! Easy supplies that I already had on hand.
Paper Box Supplies
Here is the complicated supply list:
A piece of square paper.
Yep, that's it! Any size of square paper will work great. Double sided or not. Nothing too thick, so scrapbook paper works very well. Forgiving with the folds and does not rip easily.
I used this 12 x 12 paper that I had in my scrapbook stash.
It didn't take too much convincing to gather the kids around the table to start work on this craft.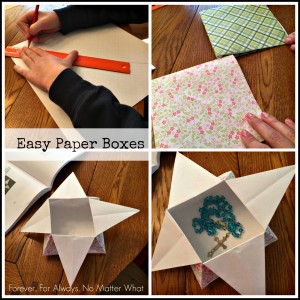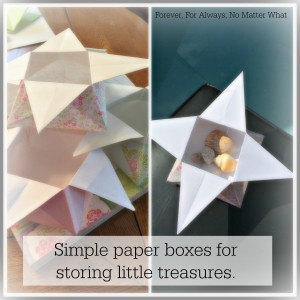 Paper Boxes Tutorial
There are complete instructions with photos in the book. We did end up using this YouTube video as a guide for us as well.
 
Why we are using Mondays with Mary
1. It makes my life easier! – Celebrating feast days is important, but I often lack the time to spend perusing Pinterest for just the right ideas. Now I have wonderful ideas at my fingertips.
2. Real projects – Real projects and real recipes for real families! I like that many of the craft idea and the recipes call for supplies and ingredients that you will most likely have on hand.
The next Mary Feast day is the Annunciation on March 25th. Meredith gives the idea of sharing the  painting The Angelus with your children, making a simple breakfast of waffles (with a recipe), and tips for talking about the Annunciation as well as praying the Angelus. Simple, yet effective.
Do you ever have one of those resources that floats around, you keep seeing it, and you keep saying "I really need to get that book!". Finally, I got it! I'm so glad that I did and you will be glad to have a copy on your bookshelf too. A treasure to reference again and again throughout the liturgical year.
Catholic Pinterest Boards
Catholic Saints & Heroes
Faith
Walk with the Saints Lent Link Up
A few of us Catholic Homeschool Moms have gotten together to share what we are doing with our children this Lent and created a first ever Walk with the Saints Link Up! Join Stephanie of Harrington Harmonies, Meredith of Sweetness and Light, and myself all Lent by linking up your favorite saint post, activity, or project!
We would love for you to link up your old and new saint related posts and children's activities. Some ideas for posts to link would be:
Service projects for Lent
Your saint book basket post
Saint lessons and activities for your homeschool or CCD Class
Tea time with Saints activities
Saint color pages and curriculum ideas
Saint crafts and hands on activities
Saint prayer posts
There really is no limit to what you can link as long as it's part of you and your children's Walk with the Saints! *Note- if you link up here, you are giving us permission to feature your post ( if chosen) with one featured image for the next link up.
Please, related and genuine posts only; we reserve the right to delete posts that are not appropriate.
An InLinkz Link-up