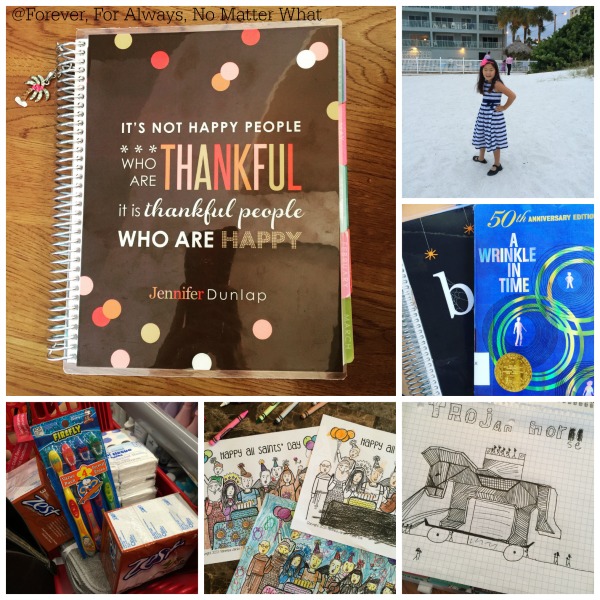 Sometimes I miss writing a blog post just to write a blog post. No agenda, just sharing what we are doing and documenting our progress in our learning.
I haven't done a "what we are doing" post in a LONG time.
I'm glad that October is over and we have moved on to November. I much prefer Thanksgiving to Halloween.
We did get new family pictures taken at the beach in October. I have been wanting to get that done since we moved to Florida. The weather in Florida has been fantastic. I will finally be able to change the picture on my about page, that photo is 6 years old! Also, we always send out a photo card for our Christmas cards – I love sending and receiving Christmas cards.
Next week we do our annual shoe boxes for Operation Christmas Child. We have started collecting a few personal care items, we will round out the boxes with a few fun things for the kids to enjoy.
Homeschool Reading
Here is a quick recap of what we have been reading lately.
We just finished up reading The Saturdays – a great book about family!
 
next up is The Family Under the Bridge – good choice for this time of year as the setting is Christmas time.
 
We are enjoying our study of Ancient History and right now we are reading The Bronze Bow.
Over the summer I requested that my teenager read To Kill a Mockingbird and we watched the movie together. The next book we are reading together is Of Mice and Men. A short book but packed with much to discuss. He's in 9th grade and even though he is taking English at school, I want to make sure he is reading some great classic books. He's thrilled 😉 He doesn't love to read but some things just must be done. If you are looking for ways to engage your teenager you should go grab the free eb00k from Heather at Blog, She Wrote.
I have been doing a quite a bit of reading myself. I seem to binge on reading. I'm always reading something, but lately I have been doing more reading than blogging.
I read The Secret Keeper for my book club. Fantastic book!
I realized I never read A Wrinkle in Time, so I read that and then read The Curious Incident of the Dog in the Night-Time. It was an interesting book but I didn't love it. One of the reasons that I enjoy being in a book club is reading something that I normally wouldn't pick for myself. Even if I don't love it, I like reading different titles.
Right now I have Of Mice and Men going and starting A Separate Peace as soon as it arrives from Amazon.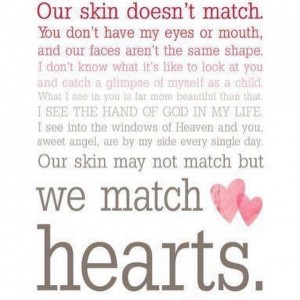 November is National Adoption Month. I have a whole slew of adoption stories that have been on the blog over the years. Check it out. You can also click on the tab "Adoption" and get more adoption info. I don't blog a whole lot anymore about adoption. My kids are getting older and I feel less comfortable sharing some of the adoption stuff. Plus, there are lots of great bloggers already sharing 😉
What are you reading in your home?
I'm linking up with Mary for Collage Friday.