(blog post contains affiliate links)
Buying gifts for a special needs child can be a challenge. Especially as the child gets older, but perhaps skill and ability are not growing at the same pace.
I like to find games and activities that appeal to a wide age range. That way our special needs kids can do more activities with siblings and siblings can enjoy the time together too.
We also limit screen time for the whole family, so with the exception of one item, nothing I've suggested needs a battery or a charger! I also picked the best of the best so you don't waste time wading through "100 Ideas", only to find none fit your needs.
I'm certain you will find the perfect gift for that special child in your life!
Gift Ideas for Special Needs Children
Butterfly Growing Kit – Hands down this has to be one of the best "science experiments" to do with children of any age and any ability. If you haven't grown butterflies in your own home – you must!
Magna Tiles – Almost all children love items that they can build with. Magna Tiles are no exception and tend to be a bit easier for kids with fine motor challenges. This is a perfect starter set. Enough individual pieces to build something meaningful to the child, yet not a huge investment to give them a try. Bonus – they aren't as painful to step on in the middle of the night!
Stack it Peg Game – We had a similar peg stacking game and my daughter used this for a long, long time. Very durable and something that older siblings would happily play with her because it was always fun to see how high that tower could go.
Dominoes – It doesn't get any more simple than a bag of dominoes! Not only can you use them for simple addition and subtraction, but I have one daughter that likes to set them up and then watch them fall. It is a great fine motor skill for her as well as a practice in patience for her to get them all set up!
Puzzles – Puzzles have always been a big hit in our house. I think the Melissa & Doug puzzles are the most sturdy and the easiest for littler hands to put together. We have a T-Rex puzzle that gets put together on almost a weekly basis in our house.
Some children can have difficulty identifying patterns. Here are two games that are fun, yet can work on important skills for a growing child. Melissa & Doug Pattern Blocks and Pattern Play.
Memory Work- Basic memory games are always fun. As I mentioned, I really like to get games and activities that can be played and enjoyed by a wide range of ages and abilities. We upped the memory game ante a bit during our regular school time with this bird memory game. Aside from the noise of this game, electronic Simon has been a crowd pleaser for a LONG time!
Gifts that Encourage Movement
Trampoline – This is an excellent and necessary way to get the energy out especially on those long winter days. This particular model can be folded up and stored away and the weight limit goes up to 150lbs so it works well for older children too.
Bouncy Ball with Handle – Another excellent sensory toy and overall energy buster. This one is bigger and works well for taller children.
Reading Hammock – We had one of these for several years when we lived in Michigan. Alas, it didn't make the move with us to FL but I just ordered a new one because it will be perfect in the girl's room. Who wouldn't love to hide away in there during quiet time or anytime one needs a break? The gentle swinging with the headphones? The girls just might find me in there!
Headphones – For kids who struggle with being overly sensitive to sounds, headphones are a godsend. These fall more on the practical gift giving spectrum rather than the "fun" side, but still are very useful. I have several kids who like to use these on longer car trips, which is a pretty smart idea!
More Gift Ideas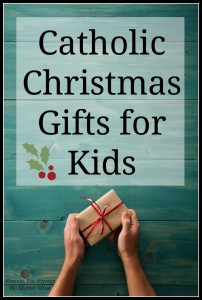 Catholic Christmas Gifts for Kids
Looking for more gift ideas? Check out the huge guide at iHomeschool Network (live on Dec 2nd)