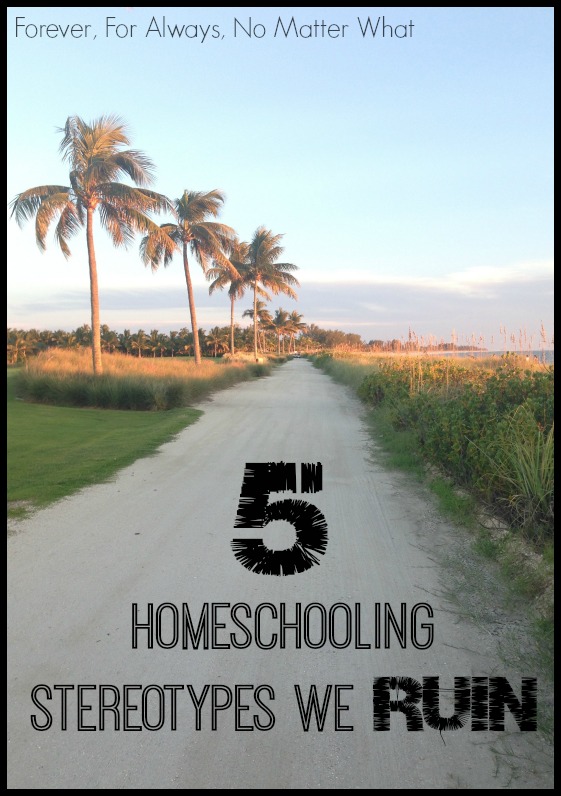 I'm not sure that there are any more accurate homeschooling stereotypes. The truth is that now homeschooling comes in all shapes and sizes. All kinds of families and all kinds of ideas about education. However most of the time it's just us homeschoolers that know this and the stereotypes in the mainstream abound.
Here are some well known stereotypes that our family shatters!
Homeschool Stereotypes
1. My Kids are Loud & Boisterous -Â Often the stereotype of homeschooling families is that the children are all well-behaved, quiet kids. Oh, how I wish it were true, but not in my house! While we work hard on the behavior part, my kids are loud. I blame their Dad 😉
Get all the kids in the swimming pool and it sounds like we have the entire neighborhood in there and that's from the front yard! I'm sure our neighbors love us.
2. My Kids Don't Like to Read -Â While a couple of kids do struggle with reading, the ones who don't just simply aren't that interested in reading. There is always someone to play with or to talk to or walls to stare at, I guess.
I love to read so I'm still hopeful that this will change as they continue to get older.
3. We Watch TV and We Have Cable -Â I know, the horror. We didn't always have cable, in fact we went many years without. Now we have it and while my husband and I don't watch tv much at all, the kids do. Obviously we limit what they watch and how much they watch, but we are a homeschooling family of tv watchers!
4. We Don't Have any Budding Einsteins – Sadly, none of our kids will be heading off to Harvard at 15. The truth is our kids are working at grade level and some are working below grade level. Homeschooling isn't just for the brilliant kids, it is just as effective for the average kids too. 
5. My Kids Drive me Crazy! – I know it seems like all homeschooling moms have a ton of patience but that's not entirely true. I love to be around my kids. I really do. It's a privilege to homeschool my children. However, I would be lying if I didn't admit to looking forward to bedtime and for cherishing those times I can get a date night with my husband or a mom's night out. While I never want my kids to think I don't want them around (the back to school commercials with the giddy parents make me sad), Â I also treasure those quiet times to recharge and regroup.
Are there any homeschool stereotypes that your family ruin?
If you liked this post you might like 9 Things I will NEVER do as a Homeschooling Mom and I Can't Homeschool I Have Too Many Kids!
Homeschooling in a Large Family - Pinterest board