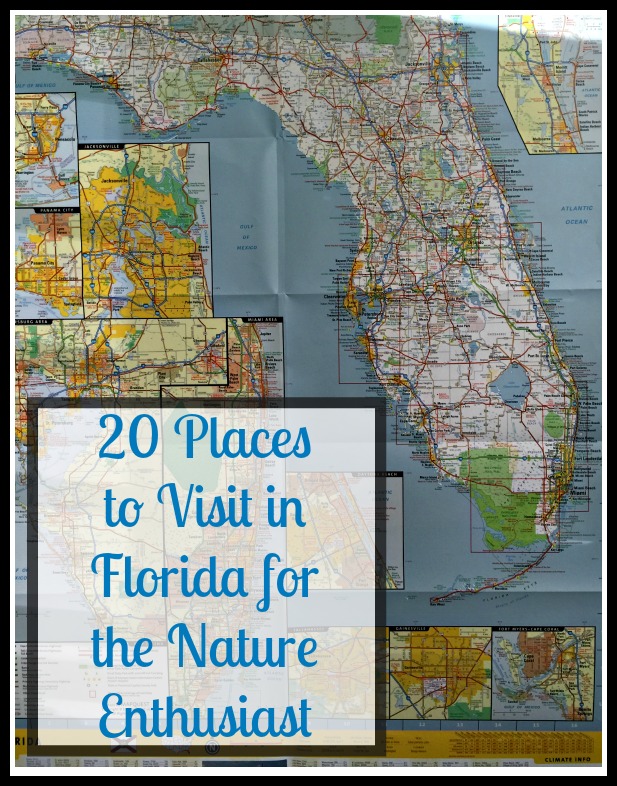 (contains affiliate links)
One of the reasons we wanted to move to Florida was because it offered us so many opportunities to take in nature, literally right in our own backyard. While it's fun to regularly see alligators, sandhill cranes, great blue herons, and many other types of wildlife in our backyard and neighborhood, we also enjoy venturing out to the many attractions around the state.
While we have visited a few of these spots first hand, most are on our to do list. Trust me that's a very long list!
Florida for Nature Lovers
1. Big Cat Habitat and Gulf Coast Sanctuary – Big Cat Habitat became a non-profit in 2005 and became a full sanctuary with the goal of rescuing exotic cats and other native and exotic wildlife in need of a permanent home. Open Wed-Sunday and offer demonstrations daily at 2:00pm
2. Homosassa Springs Wildlife State Park – Interested in seeing manatee? This is your spot. You can see them every day of the year in their underwater observatory.
3. Clearwater Aquarium – The Clearwater Aquarium is home to Winter from Dolphin Tale 1 & 2. A great afternoon visit. The Clearwater Aquarium focuses on animal rehabilitation with a hopeful release back into the wild. The animals that are permanently in their care can not, for one reason or another, be released back into the wild.
4. Tampa Aquarium – The Tampa Aquarium has not only a variety of animals, it has a play area for children. Spend time in the aquarium, and then the kids can burn off some more energy in the splash zone.
5. Lowry Park Zoo – Voted the #1 zoo for kids – how could you not go? We have enjoyed our visits.
6. Mote Aquarium – Not your average aquarium, you can watch the research as it happens in viewable working laboratories. Sharks, manatee, and sea turtles are just some of the animals to see.
7. Marie Selby Botanical Gardens – Also in Sarasota, beautiful botanical gardens. Check out the Children's Rainforest Garden and see a 100 year old banyan tree, not to mention a 12″ waterfall.
8. Ding Darling Society – Sanibel Island happens to be one of our favorite spots in Florida. We thoroughly enjoyed our visit to Ding Darling and the tour that we took. A great family activity.
9. Merritt Island National Wildlife – Visiting Kennedy Space Center? Take some time to visit the wildlife refuge as well. The refuge is home to over 1,500 species of plants and animals.
10. Florida Museum of Natural History – Among the many programs and exhibits the museum offers is a Butterfly Rainforest and they have live butterfly releases. They even offer special programs for homeschoolers.
11. Circle B Bar Reserve – Several different trails for hiking. See an Oak Hammock, Freshwater Wetland, and Banana Creek Marsh.
12. Gatorland – Gatorland is a half-day excursion near Orlando. A fun visit to see one of Florida's most popular animal attractions – the alligator.
13. J.B. Starkey Flatwoods – Features a paved trail that connects to the 42-mile Suncoast Trail. Lots of opportunity for hiking, picnicking, horseback riding and biking.
14. Suncoast Seabird Sanctuary – Located on the Gulf in the town of Indian Shores, they offer group tours for homeschoolers as well as just general wandering around. "The Sanctuary's mission is dedicated to the rescue, repair & rehabilitation of injured birds and then their release back into nature." They are open each day and admission is free.
15. Sunken Gardens – Located in St. Petersburg, the gardens are home to some of the oldest tropical plants in the region.
16. Myakka  River St. Park – Scenic lake tours are offered daily on airboats, or take a stroll on the boardwalk that stretchs out over the lake. Catch Florida wildlife in it's natural habitat.
17. Gulf World Marine Park – Pet stingrays in the petting pool, watch a dolphin show , even a magic show.
18. ZooWorld Zoological & Botantical Conservatory – Over 250 animals call ZooWorld home. Daily live shows, a petting zoo, and a raised walkway for feeding a giraffe!
19. Environmental Learning Center – Located in Vero Beach, Florida, the ELC is a 64 acre campus with walking trails and educational buildings. Plenty of hands on learning for all with touch tanks full of sea life as well as boat tours.
20. Butterfly World – Butterflies, a Bug Zoo, and a giant suspension bridge. Sounds like a great afternoon in the making.
Florida Resources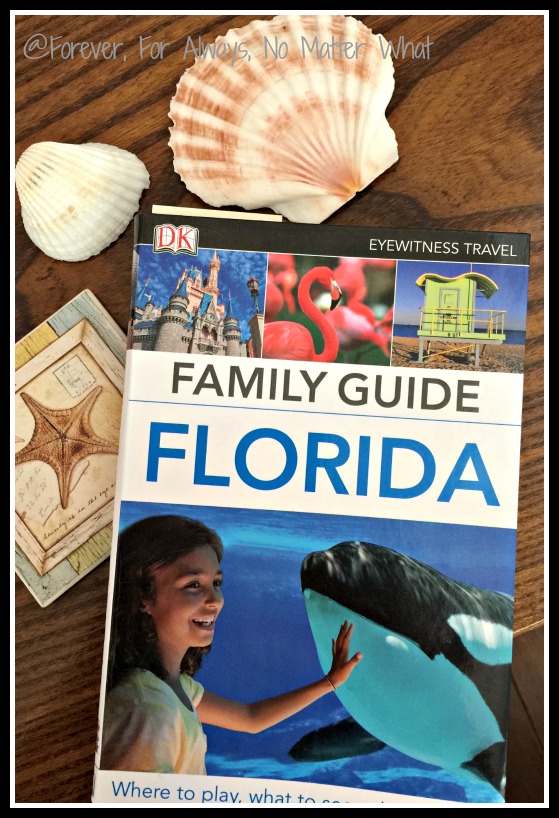 A book that has been my go to guide for our Florida exploration is, Family Guide Florida an Eyewitness Travel Guide from DK Books. The book is helpful to our busy family and I don't have to spend a bunch of time trying to research places on the internet.
– The book covers all of Florida
– Gives recommendations on accommodations
– Contains several different maps in front and in back, as well as many smaller maps in the various sections.
– Highlights areas that are particularly good for children
– Also will give some restaurant suggestions
– Many, many great photos throughout
To compliment our adventures and our most recent studies we have been using the Sea Life Notebooking pages from Harrington Harmonies. It's like she created them with us in mind. A nice drawing, space for answering a specific question and not tons of space for writing, which makes my reluctant writers very happy!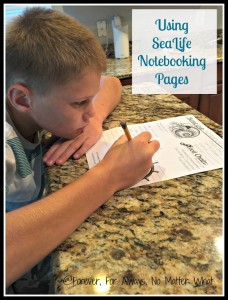 More Places to Visit in Florida
100 Things to See and Do in Florida
Homeschooling in Florida – My Pinterest board – you don't have to homeschool in Florida to find this board helpful. Planning a trip to Florida in the future? Lots of great places to visit!