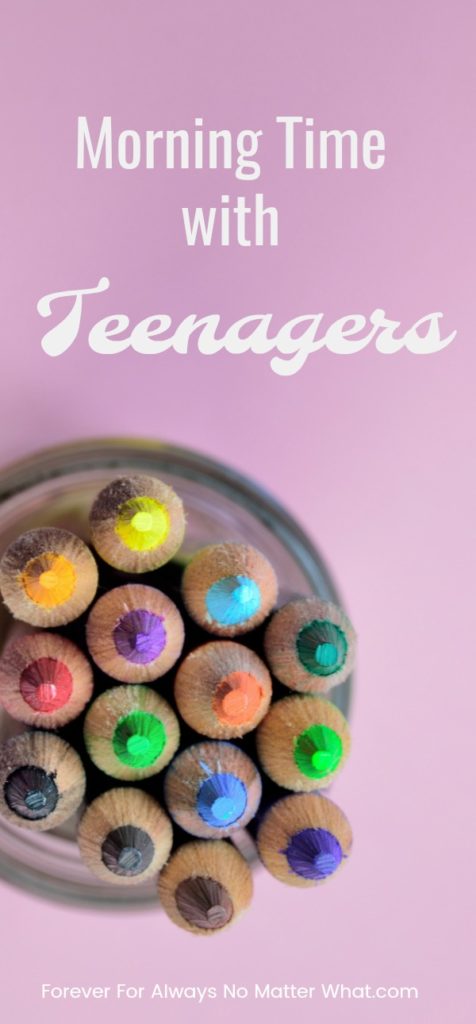 (contains affiliate links-thank you for your support!)
Teenagers. We love to joke about their moodiness and their messiness (with good reason!), but teenagers are also a lot of fun. They are developing strong opinions about life and like to share them. Often.
Homeschooling as our children grow presents challenges. One of which is the willingness to be flexible in how we accomplish our day. Growth and change are good, except when they are not.
We have done family style learning for almost all of our homeschooling journey. We have done morning time for a long time as well. Except, we don't call it morning time! My boys were older when we started so there was no way they were going to be excited about anything called "morning time". So our together time has always been called our Power Hour. It packs a bit more punch doesn't it?!!
Get Started with Morning Time
If you are just trying to get started with morning time with your teenagers feel free to borrow Power Hour, or better yet, have your teens brainstorm a name of your own. It will help them be a bit more excited about doing something new, because you know teenagers like to think new ideas we have are "dumb". 😉
Another big tip for doing a Power Hour with teenagers is it doesn't have to be in the morning! This year I officially moved our to Power Hour to the afternoon. Instead of kicking off our morning, now it kicks off our afternoon. The only down side is that due to outside activities that means we will only do Power Hour 3 afternoons per week.
The upside is that I'm not trying to drag a teenage boy out of bed in the morning to get our day started. That did NOT work out well for us last year. Now most of the kids start independent work in the morning and I work one on one with Leah. He can get up and get his work started or do it in the afternoon when our school day is over.
Power Hour Content
So now, what about content for Power Hour for teenagers? This of course will vary widely. I think this is the time that you can really focus on what is important for your family. Include subjects you are already interested in or subjects you would like your family to take interest. My Power Hour kids range in age from 14 to 10 so it isn't a huge gap. Leah (special needs 11 yo) floats in and out depending on what we are doing. I don't require her to sit with us so she is looking at books, doing puzzles, etc. The others are expected to participate.
First, we always start with a decade of the rosary. Now, this is one detail about moving our Power Hour to the afternoon that I don't love, I would prefer to start our morning with the rosary, but as long as we are saying it at some point I'm okay with that.
Next we watch CNN Student News, now called CNN 10, to get a brief overview of world news. We don't normally watch CNN news but these ten minutes are geared toward middle schoolers and high schoolers. The show gives some interesting items to discuss at the dinner table!
After those two items each Power Hour looks different. Last year I laid out some pretty specific plans for us and it worked out well. I wasn't as ambitious this summer and so our plans are a bit more free flowing. So far so good. Â I wrote up a simple sheet to keep on my clipboard so I would remember what I wanted to do!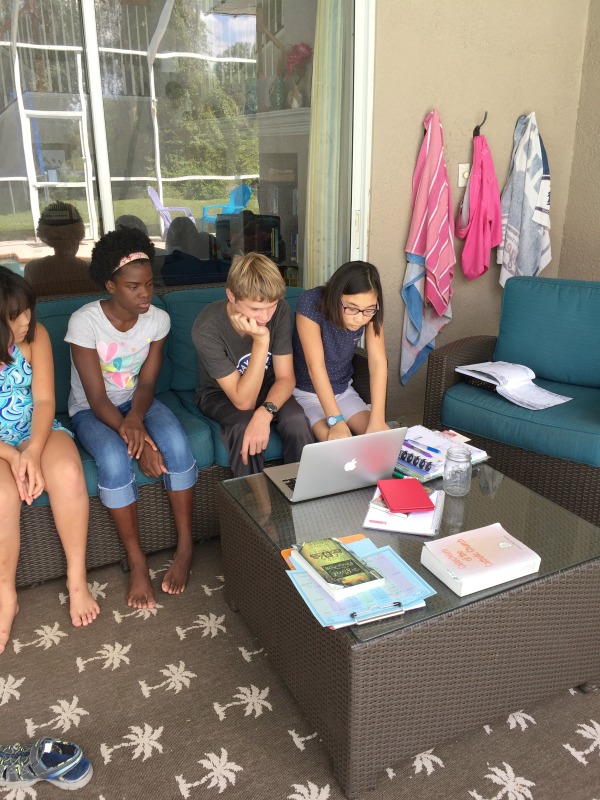 Power Hour Schedule
Rosary – decade
CNN 10
Saint of the Day
Bible verse – Sunday gospel
Read aloud – this is whatever literature book we have going. This is our current book:
Loop Schedule
(M) Science – Youtube videos
(W) Geography/Maps – States/Capitals/World maps
(F) Nature study – Florida Birds
(M) Art Appreciate – Picture Study Portfolios and then Homeschool Art Appreciation
(W) Grammar/Vocabulary – I was looking for a resource for grammar/vocabulary and I'm going to use this book:
We have the American History and Science Notebooks and we love them. I can't get them away from my 14yo. Not a full curriculum but perfect for Power Hour when just a snippet is needed to either introduce or reinforce. Any of the notebooks would be a perfect addition to your Power Hour.
 They are very reasonably priced as well. I'm also getting World History and even the Math edition.
(F) SQUILT – we are waiting a bit to start this as we are doing Ancient History and I'd like our history/music to line up.
I try to keep the content high interest and keep our time together short, usually about 45-60 minutes. That's it! Very little prep on my part and it leads to one of the best parts of our day.