St. Valentine's Day love. What does it mean to you and your family?
Of course we love our children, and we assume that our children know that we love them right? For some children though, it's harder to accept the fact they are loved.  Really, truly, forever loved. Because, after all, their first parents couldn't or wouldn't finish the parenthood marathon. So, it's no surprise that some children need extra reassurances.
One of the best gifts we can give our children is to pray for our children. Â Let them know we are praying for them, and ask what they would like us to pray about. After all, even more important than them knowing that we love them is to know that God's love for them is unwavering. That they might never question their purpose on this earth. They were created to know Him, Love Him and Serve Him.
St. Valentine's Day Activity Pack
St. Valentine's Day is quickly approaching. One of my favorite feast days to celebrate with my children. To me this day is not about the cupid love that is all over the Hallmark story, but the deep, lasting, sacrificial love between spouses and between parents and children.
I created this printable so my husband and I could jot down some attributes about each of our children and then tuck the sheets into their Valentine gift boxes.  If you would like a copy for yourself, simply subscribe to my blog by entering your e-mail in the box to the right. Also included is a Valentine's Day story starter and a St. Valentine Know Your Saints notebooking page.
Edited: You can now download the Activity Pack here:
St. Valentine notebooking page
St. Valentine's Day story starter
5 Things I Love About You
Our favorite St. Valentine's Day book is Saint Valentine. I have included a few free resources in the activity pack to help you with your St. Valentine  Know Your Saints notebooking page.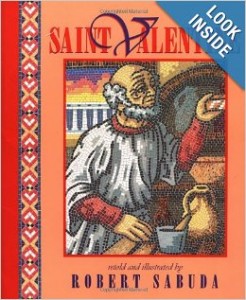 5 Saint Quotes About Love
"You know well enough that Our Lord does not look so much at the greatness of our actions, nor even at their difficulty, but at the love with which we do them."
–Saint Therese of Lisieux

"The person who does not decide to love forever will find it very difficult to really love for even one day."
–Pope John Paul II

"We become what we love and who we love shapes what we become. If we love things, we become a thing. If we love nothing, we become nothing. Imitation is not a literal mimicking of Christ, rather it means becoming the image of the beloved, an image disclosed through transformation. This means we are to become vessels of God´s compassionate love for others. "
–St. Clare of Assisi

"We cannot all do great things, but we can do small things with great love"
–Blessed Mother Teresa

"Everything comes from love, all is ordained for the salvation of man, God does nothing without this goal in mind."
–Saint Catherine of Siena
More St. Valentine's ideas on my St. Valentine's Day Pinterest board
Happy St. Valentine's Day!
Be sure to check out the other bloggers with FREE printables!