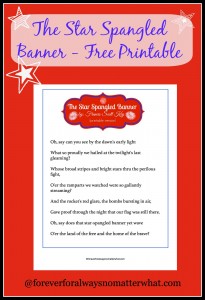 In our Tapestry of Grace studies over the last few weeks we have been talking about the War of 1812.  One of the many  facts  we learned was that Francis Scott Key wrote the Star Spangled Banner during the War of 1812.  The words came to him as he was on a truce ship watching the bombing of Fort McHenry. He had to stay on the truce ship because he had caught wind of the British plan of attack.
The poem was originally called "The Defense of Fort McHenry". It was published in Baltimore and then soon swept through the rest of the country.  People were inspired by the bravery of the people of Baltimore and continued to spread the words of the poem.  Eventually it became our National Anthem.
The Olympics are about to begin and we are hopefully going to be hearing our National Anthem quite a bit.  I wanted to be sure that my children knew the words of the anthem and knew some of the history behind the anthem.  I think that when we know the history of something it has more meaning and significance.  The words of the entire poem can be found here.
I created a simple printable of our National Anthem.  We are going to use it along with our Olympics Activity Pack, and practice the words, as well as use it for copy work and dictation.
—> Download Star Spangled Banner <—
Here's a traditional version of the National Anthem from the 2005 Super Bowl: