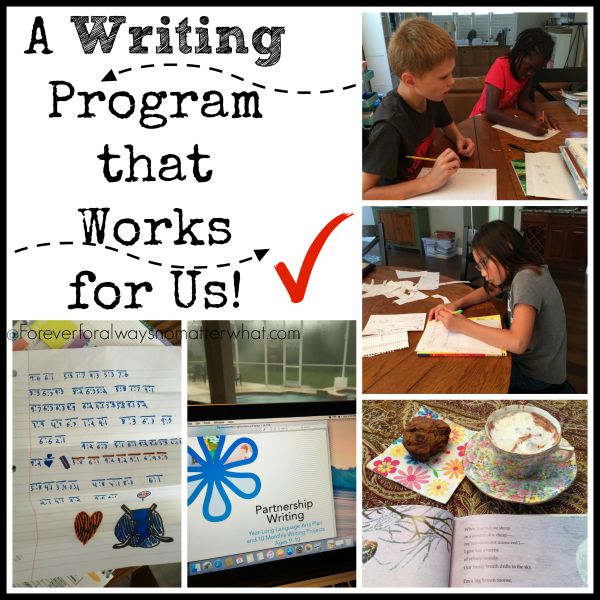 *I did receive this product for free and was compensated for my time. I was not required to post a positive review. All opinions are honest.
Remember those toddler days (this usually happens with the first child), when you are so desperate for your child to eat something besides sand from the sandbox? Â You are quite certain that this child really will be the first child to starve and will not simply "eat when he is hungry". Those are the days your toddler can sniff your fear, your desperation even, a mile away. No way is that child going to eat whatever concoction you just spent the last two hours preparing.
Much is the same with homeschooling. Our children feel our anxiety and see our trepidation over teaching certain subjects. If I were to survey a group of homeschooling moms I would say that math and writing cause us the most anxiety! We beg, plead and cajole our little loves to write. After all, the neighbor's child has been doing five page book reports since Kindergarten for Pete's sake!
We just want our child to write a couple of sentences to a pen pal without us both dissolving into tears.
I'm here to tell you it doesn't have to be that way.
What if your child loved a writing curriculum as much as you do?
What if you couldn't even call it a curriculum, but just a natural part of your day?
What if it's like the most delicious, nutritious meal you could hope to prepare and your children can't get enough?
Homeschool Writing
Relief and elation are some words I could use to describe how I felt when I first started using Brave Writer. The program is an excellent addition to our homeschool curriculum, and is just a great fit to the manner in which we "do school".
I appreciate the way that The Writer's Jungle  is a philosophy of guiding our children through the writing process from elementary age to college prep, really this is the core of all the Brave Writer products. Not in a checklist sort of way that causes anxiety, but a natural way that encompasses all things like reading, watching movies, having conversations and of course writing. Simple ways to create a literature rich environment in your home without stressing over it. The Writer's Jungle is a go along for any age and any program.
For instance, I was encouraged to finally have another a Poetry Tea Time. We haven't done one since we did a letter of the week program many years ago. I made muffins the day before and while I was making hot chocolate the kids picked out pieces of poetry to read. My reluctant reader had so many selections he wanted to read to  us my daughter said, "instead of a repeating decimal, you are a repeating poet!"
Even my high schooler wanted to participate and each of my children thanked me for having a tea time. Such a fun and simple way to spend a little time reading poetry.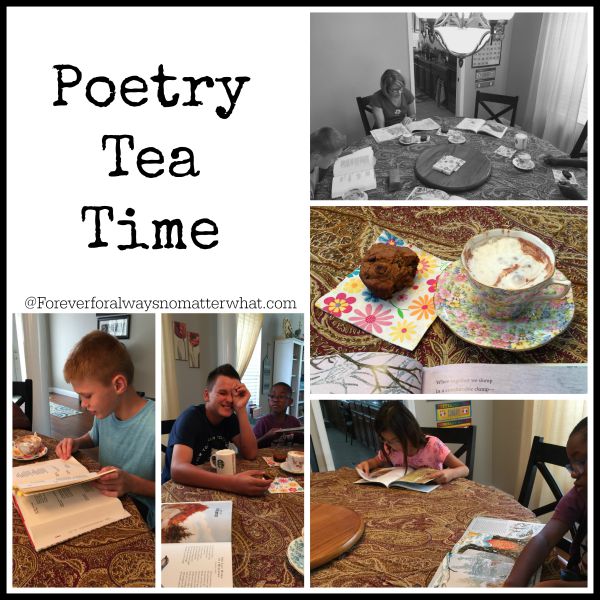 Benefits of Using Partnership Writing from Brave Writer
When I'm looking at a program, any program for my family, one of my considerations is finding something that will work for a range of children. Particularly in a large family I think this is imperative. Not only does it make sense time wise, but I love the dynamics of my children working side by side on a task. We have time to slow down if someone needs extra help, but also can move quickly through an item that all the children are grasping.
I chose to use Partnership Writing for my three children. I did as mentioned on the website, and ignored the ages, went by the description and matched it to the needs of my children. Because I have a couple of children who struggle a bit with getting words and thoughts on paper, and because it works best for many of my children to experience success quickly especially when trying something new, Partnership Writing was the best fit.
Our first project was the called "The Secret Codes". Â We have spent the last few weeks doing all kinds of secret codes. It has even resulted in sending letters to Grandma in secret code!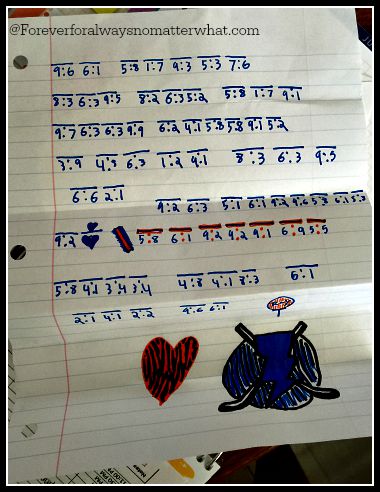 More Benefits of Partnership Writing
– Concrete tips and ideas for partnering with your child during the writing process
– There are instructions for 10 writing projects, ideally one per month or so. Benchmarks for each week are included – perfect for a busy homeschooling mom!
– Simple ideas for tea times, movies, and word play
– Julie gives a great explanation of routine vs schedule (I love this!)
– She shares sample routines based on the seasons, really great ideas
– Ideas and tips for poetry recitation, plus several poems as well
I truly feel like this program takes the worry away. We can do easy (by that I mean minimal prep for mom!) projects with our children. They will be so engaged that they won't even realize they are writing. It sets the stage for our children to see the writing process as something enjoyable and not dreaded. Plus, we are also setting our children up with good writing habits that will carry them through the more serious writing of high school and beyond.
Special Discount
I highly recommend this program! I plan to make Brave Writer a part of our curriculum through high school. As my children continue to grow in their writing skills I also plan to incorporate the online class offerings from Brave Writer as well.
Be sure to take advantage of this offer, now through 9/21/2015.
10% discount off all orders – September 7 – September 21, 2015 with code iHomeschoolDiscount
Social media links for Brave Writer, be sure to follow on your favorite social media site:
Facebook
Twitter
Pinterest
YouTube
Instagram
Google +
Brave Writer Blog
Still have questions? I would encourage you to watch this video and Julie Bogart gives great information about the Brave Writer Lifestyle – I highly recommend it!
https://www.katch.me/BraveWriter/v/83a5e1bb-c6ed-3247-8189-86aea3074891