It's hard to believe we have been in Florida for one whole year!
Most of the time it feels like we have lived here for far longer and I mean that in a good way.
Making a huge move from Michigan to Florida, and homeschooling a large family in the midst of it, made for quite a year. We moved into a rental house and then moved again when we purchased our home. We have lived in our new home for almost 2 months and it feels great to have a sense of permanence and to truly be settled.
Last year wasn't our best year in terms of how much academic work we completed, however,  it was a good year for exploring our new home state and just getting adjusted. It can be a challenge to constantly be the new people in a group, to have to use the GPS every time you get into the car, and just that feeling of being an outsider. Nothing can really cure those feelings other than time.
The kids grew in ways that can't be measured on a test.
We are thankful that we met a great group of friends and an active homeschooling group almost as soon as we moved here. Right away the kids had friends and had activities to get involved with. It made the transition so much easier.
When we began homeschooling in 2006, never did we imagine that our journey would involve a cross-country move. One of our goals with homeschooling is to help our children find their passions and to help them pursue those passions as best we can. We knew that a move to Florida would help open some doors in the future for our nature loving 11 year old. We also knew that being able to be outside a majority of the year would be a blessing for our family as well. Yes, it get's hot in the summer, but we made it through and no one melted!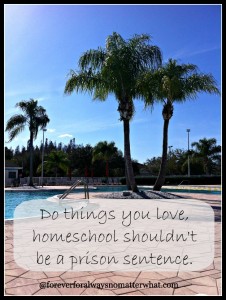 I share much more about ways to make a big (or not so big!) move more manageable as well as share tips on homeschooling a big family in The Big Book of Homeschool Ideas. Be sure to get a copy for yourself!
Now on to the giveaway! I wanted to share a few of our favorite Florida resources with you. You don't have to live in Florida, or even want to live here, to appreciate these books. Be sure to enter!
Here are the books I'm giving away:
The Young Naturalist's Guide to Florida
The Fabulous Florida Coloring Book
A Land Remembered vol. 1
Deadly Waters: A Mystery in Everglades National Park
a Rafflecopter giveaway
  iHN is giving away 10 copies of the bundle! Don't worry, if you purchase your own copy and then win a copy, your entire amount will be refunded to you. a Rafflecopter giveaway
You can homeschool through a move and you can homeschool a large family. Yes, it's busy and at times a bit chaotic.
October 1 – Heather Woodie from Blog, She Wrote. Author of the chapters Teaching Geography with Geography Quests, Teaching Sewing in Homeschool, and Being a Homeschooling Mentor Rather Than an Instructor.
October 2 – Stephanie Harrington from Harrington Harmonies. Author of the chapters Everything You Need to Know About Gardening and You CAN Teach Art.

Stephanie will be giving away a Teaching Art Basketful of Goodies.

October 3 – Joan Otto from Unschool Rules. Author of the chapter Learning from Video Games.

Joan will be giving away a $20 GameStop gift card.

October 4 – Mary Prather from Homegrown Learners. Author of the chapter How to Teach with LEGO.

Mary will be giving away free LEGO scripture copywork.

October 5 – Amy Stults from Milk and Cookies. Author of the chapters Learning with Maps and Genealogy for Kids.

Amy will be giving away a copy of WonderMaps from Bright Ideas Press.

October 6 – Eva Varga from EvaVarga.net. Author of the chapters How to Use Postage Stamps for Learning and Inquiry Science with Middle School Students.

Eva will be giving away Getting Started with Inquiry Science.

October 7 – Colleen Kessler from Raising Lifelong Learners . Author of the chapter Hands-on Science.

Colleen will be giving away Science for Smart Kids: Electricity.

October 8 – Sallie Borrink from SallieBorrink.com. Author of the chapters Allowing Play to be Your Child's Preschool, Parenting a Spirited or Highly-Sensitive Child, and Parenting an Only Child.

Sallie will be giving away a $25 shopping spree at Sallie Borrink Learning.

October 9 – Karyn Tripp from Teach Beside Me. Author of the chapter Homeschooling with Games.

Karyn will be giving away a printable Build a House – Math Bingo Game.

October 10 – Selena Robinson from Look, We're Learning. Author of the chapters Teaching Foreign Language, Active Learning Ideas for Kinesthetic Learners, Using Movies for Learning, How to Add PE to Your Homeschool Day, and Homeschooling Through the Summer.

Selena will be giving away We Got Jazz.

October 11 – Janine LaTulippe from True Aim Education. Author of the chapters How to Encourage Math Haters, How to Answer the Critics of Homeschooling, and Character Development.

Janine will be giving away a Character eBook Set and a Free Character Building Activities printable.

October 12 – Marci Goodwin from The Homeschool Scientist. Author of the chapter Nature Study.

Marci will be giving away a field guide.

October 13 – Jennifer Dunlap from Forever, For Always, No Matter What. Author of the chapters Homeschooling in a Large Family and Homeschooling through a Move.

Jennifer will be giving away a couple of Florida learning resources.

October 14 – Ticia Messing from Adventures in Mommydom. Author of the chapters Tools to Teach the Bible to Your Kids and Hands-on Learning.

Ticia will be giving away an Old Testament Bible study.

October 15 – Alicia Hutchinson from Investing Love. Author of the chapters Children's Literature, Homeschool Conferences, and Unit Studies.

Alicia will be giving away Mrs. Hutchinson's Classroom Guide: Homeschool Basics.

October 16 – Michelle Cannon from Heart of Michelle. Author of the chapters Transitioning from Elementary to Middle School, Homeschooling the Child with Bipolar Disorder, and Navigating from High School to College with a Dyslexic Child.

Michelle will be giving away a one-hour homeschool consultation.

October 17 – Jennifer Janes from Jennifer A. Janes. Author of the chapters Special Needs Homeschooling and 25 Ideas for Ministry and Volunteering in the Community with Kids.
October 18 – Renee Brown from Great Peace Academy. Author of the chapters How to Find Resources for Gifted Child Homeschooling, How to Homeschool During Job Loss, and Prioritizing your Marriage While Homeschooling.

Renee will be giving away a $25 Amazon card.

October 19 – Adelien Tandian from Blessed Learners. Author of the chapters How to Start Research With Your Logic Stage Kids.

Adelien will be giving away Basic Science Notebooking Pages and Graphic Organizers.

October 20 – Heidi Ciravola from Starts at Eight. Author of the chapters Making Tweens and Teens More Independent Learners and High School Literature.

Heidi will be giving away The Ultimate Homeschool Planner and The Ultimate Weekly Planner for Teens from Apologia.

October 21 – Dianna Kennedy from The Kennedy Adventures. Author of the chapters Keeping Babies and Toddlers Occupied While Homeschooling, Managing Extra Curricular Activities and Homeschooling, and Homeschooling While Pregnant.

Dianna will be giving away a $25 Amazon gift card.

October 22 – LaToya Edwards from Learning to Let Him Lead. Author of the chapters Homeschooling Elementary Aged Boys, and Single Parent Homeschooling.
October 23 – Carisa Hinson from 1+1+1=1. Author of the chapter Homeschooling Tots.

Carisa will be giving away Animal ABCs Bundle.

October 24 – Shannen Espelien from Middle Way Mom. Author of the chapters Getting Started with Credit-by-exam, Where to Buy and Sell Used Curriculum, and Transitioning to a Virtual School from Public School.
October 25 – Marianne Sunderland from Adundant Life. Author of the chapters Homeschooling Teen Girls, The Power of Interest-led Learning, and Raising Kids With Vision.

Marianne will be giving away a DVD/study guide bundle of Intrepid: The Zac Sunderland Story – Part 1, Part 2 and Wild Eyes: The Abby Sunderland Story.

October 26 – Kyle Suzanne McVay from Aspired Living. Author of the chapter Classical Homeschooling.

Kyle will be giving away A Home Educators Guide to Living Math.

October 27 – Mama Jenn from Mama Jenn. Author of the chapter Homeschooling Twins.

Jenn will be giving away an Education Cubes Set (membership AND cubes/photo blocks).

October 28 – Amy Matkovich from A Journey of Purpose. Author of the chapters Making the First Day of Homeschool Special, and How to Make a Homeschool Budget and Stick to it.

Amy will be giving away Dave Ramseyís Total Money Makeover book and The Graduateís Survival Guide (book and DVD).

October 29 – Amy Maze from Living and Learning at Home. Author of the chapter Free eBooks and Audiobooks.