Here is a simple prayer to pray each day for our children. Even simple enough to memorize.
————————-
A Prayer for Our Children
Lord, thank you for the gift of the children you have placed in our home. Please guide us to raise each of them as you are calling. Help us to instill in our children not only our great love for each one of them, but Your immense love and mercy. Press upon our children that while our desire for them to reach heaven is great, Your desire is far greater. Our love is great, Your love is far greater. Our desire for them to follow Your will is great, but Your desire is far greater. Lord, grant us the wisdom and discernment to lead, nurture and train our children all of our days. Amen
————————-
Short and simple. A prayer that we can manage to say on even the busiest of days.
I prettied it up just a tad so that the prayer could easily be printed and laminated (if desired) for easy reference during prayer time.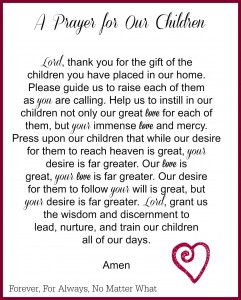 Please download your copy of A Prayer for Our Children.
More Posts on Praying for Our Children
A Mother's Prayer for Her Children
Catholic Prayers for Children to Memorize