(this post contains affiliate links)
The other day one of my boys said to me "Mom, it must have been SO BORING to watch tv when it was only black and white! How did you stand it?"
Good grief, I'm not that old – not even close. Although I do remember having to get up to actually change the channel. Oh the horror.
We've come a long way in the technology department. A long way. As much as technology gives us new issues to work through, I'm thankful for it most of the time and I'm so glad I'm not taking the laundry out to the river to pound with rocks or having to spend hours churning butter!
Speaking of great inventions in technology enter the internet. I do love the internet and think God must have had us little old moms in mind when he gave Al Gore (Ha! ;)) the idea for the internet.
I do not know how a homeschool mom, any mom really, survived before Amazon.
Truly.
How did a mom Christmas shop, birthday shop, back-to-school shop, grocery shop by having to leave the house for every single item??? Can you imagine?
I wanted to pull together a list of some of my favorite essentials for our homeschool that I purchase from Amazon. Â Note: these are not curriculum choices, only the other extras and fun accessories that make homeschooling a decoración y diseño de interiores curso online. Although we do purchase many curriculum items from Amazon as well.
You can equip your entire homeschool without leaving the couch!
Favorite Homeschooling Essentials
Paper – now this is very basic, and I don't want to insult your intelligence by reminding you to buy paper! What I'm talking about specifically is graph paper. We use graph paper during math and it's a tremendous help in keeping math work lined up. Here is an example of how we use graph paper for math in our homeschool
Binders – We use many binders and page protectors for a variety of things. We keep our Paths of Progress work in binders, writing binders and Five in a Row binders. Binders can also be excellent for pulling together those end of the year portfolios. I use binders for record keeping, household items and more. It's worth it to buy a quality binder as they get a lot of use throughout the year. Store your extra page protectors in an extra binder!
Office Supplies – This, perhaps, is my most favorite category. Oh, how I love office supplies.
Pencils – these are the best. period.
Pencil Sharpener – more than worth it to get the heavy duty sharpener, it will get used – a lot!
Pens – I like all different kinds of pens, too many to list here. These are a bit of a splurge, but they last forever and I like them for my planner.
Binder Clips – these are for a variety of uses, marking pages in a book, holding items together for storage, they are so pretty!
3 Hole Punch – a necessity for all of those binders
Easel Pad/Flip Chart – this may seem like an odd item to have on the list, but we use this all the time! I leave notes, chore assignments, vocabulary words, and spelling words on the pages. Sometimes a quote or bible verse too. It is also good writing practice for the younger kids.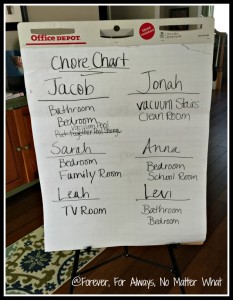 Sharpies – again, we use these for a variety of activities – mainly though for my flip chart. The kids use them for drawing.
Art Supplies – You know this category is very minimal in my house, but we do have a few staples.
Colored Pencils – we mostly just use colored pencils. I'm over picking up broken crayons.
Chalk Pastels – these are great for doing the chalk pastel tutorials from Hodgepodge Mom
Crafts for the Non-Crafty Mom – a few tricks I have for letting the kids get their crafty on.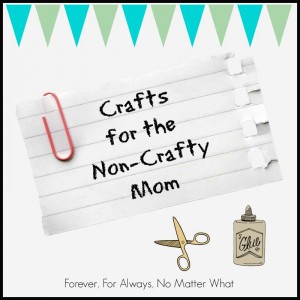 Organization – Obviously I like blogging about this topic.
15 Organizational Tools for the Homeschool Mom – one of my favorite posts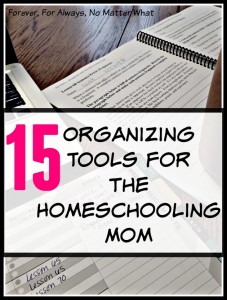 How to Stay Organized in a Big Family
Must Have Homeschool Items for the Large Family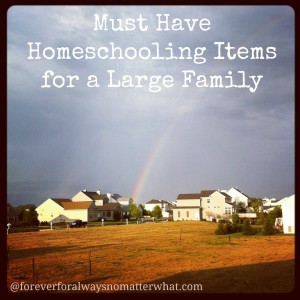 What would other Homeschool Moms purchase from Amazon?
Mary @ Homegrown Learners
Tricia @ Hodgepodge Mom
Colleen @ Raising Life Long Learners
Wouldn't it be awesome to get some of these items for FREE? You can if you win the $100 gift card from Amazon. Be sure to enter: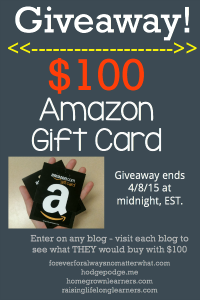 a Rafflecopter giveaway