(contains affiliate links)
Back to Homeschool!
or back to a fuller schedule for those of us that don't take the summer off.
Back to school activities, back to school sports, back to school regular bedtimes (yay!)
I know some of us head into fall kicking up our heels with glee to be back to a regular schedule and others feel like we are being dragged kicking and screaming from the lazy days of summer.
Whichever the case may be for you, it doesn't hurt to get the season started with the chance to win some great items. Items that will hopefully bring peace and joy to your day.
Homeschooling the Simple Yet Effective Way!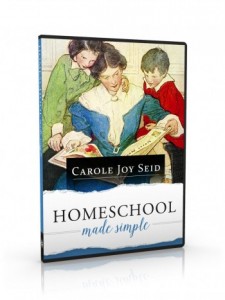 First things first, what is missing from the above photo is that you can also win a digital version of Homeschool Made Simple – You can read my post about how this DVD has crystalized our homeschool mission. I know it will make a difference in your homeschool too.
 
Simplicity Parenting – I have read this book several times and each time I gain something new. A friend recently reminded me of this book and thought it was perfect to include in the basket. Our lives are so overwhelming most of the time, but it doesn't always have to be like that! Tons of practical, real life tips to help make life less chaotic.
The Door in the Wall – One of our favorite family read alouds. A sweet story about trusting God's plan even when it's vastly different from our own.
 
Bloom Daily To Do List – This is a short and sweet git r done list. The one shown is not the exact one I have in the basket. It must be a popular item because I just ordered this! Trust me though, it's super cute and functional as well.
 
Coffee Cup – His Grace is sufficient for me – Who doesn't want to start the day with a cup of grace? 🙂 Plus the colors are so pretty.
 
Pilot G2 pens – My favorite pens for everyday use, use in my planner, pretty much anything.
 
Flair pens – My favorite pens for writing in my planner, love the colors!
Using nice, colorful pens along with a planner I adore, are little ways I can add beauty and fun to mundane tasks. I hope these items are as enjoyable to you to use in your homeschool day as it was for me to pick them out. Many blessings on your new school year!
More Organizational Tips
Staying Organized in a Big Family
Homeschooling in a Large Family
Don't forget to enter to win!
a Rafflecopter giveaway
Be sure to check out the other gift baskets you can win