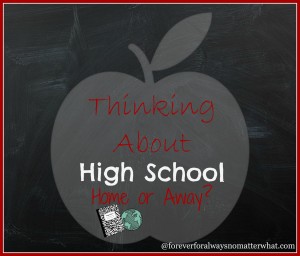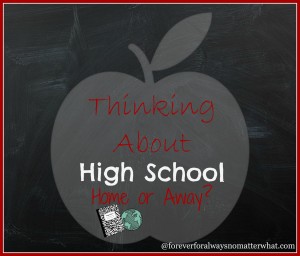 High School days are rapidly approaching us and our homeschool.  Jacob is turning the corner on his 7th grade year. We are starting to explore our options for High School.  What High School may look like in our homeschool and what it may look like for him at school outside our home.
I know, I can hardly stand to think of him doing "school" someplace else!
We have always said that we would take each year, each child as it comes and re-evaluate. Honestly though I was hoping that we would homeschool all the way through.  That would be my choice.  However, as Jacob is getting older, we want him to have more say in his schooling.
I can think of a million reasons why he wouldn't like attending high school, he of course can think of a million reasons why he would love attending high school.  Public school isn't an option for us at this point, which does narrow down our choices considerably.
I'm also trying to push aside my pride and my ego, and truly make the best decision for our son and his education.  I will admit that's hard. I want to think that we can provide the best education for him here, at home.  Is it prideful to say I know I can??
Selfishly, I feel like we have put in all the hard work through 7th grade and now when he is at the point of digging deeper into topics, having more interesting and thoughtful discussions, and learning about subjects he loves – he won't be here.  He will be fulfilling a bunch of requirements set by someone else, learning about stuff he may or may not be interested in learning about.
Some of his complaints about homeschooling:
Tired of Being Around Little Kids – I can understand this. He's the oldest.  Most of the people in our homeschool circles have younger children. Even though he has plenty of friends in TaeKwonDo, Baseball and Church, I think he views homeschooling as babyish. He doesn't have any older homeschool friends to admire.
We Do Family Style Learning – I love this type of learning because it works well for me.  We can all be together learning about the same time period in history, the same topics in science.  Again, I think this makes him feel like a baby.  This is easy enough for me to solve by giving him his own course work and not making him participate in our family learning unless he wants too.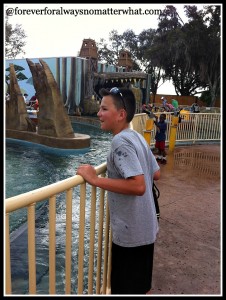 Some of my concerns about the situation:
He Idealizes School – thanks in part to the way school is portrayed on television, I think he has a skewed sense of what school is like, the demands on his time and what his schedule would be like.
He Doesn't Think He Does "Real" School – I'm not sure where this came from or why he thinks this way, but this has often been his complaint. Even though he has never attended school, he for some reason believes that only real learning can take place in a classroom.
He Uses Me as a Scapegoat – If he doesn't know something or feels like he is behind, he tends to blame me. He has no problem finding out how to do something that he is interested in without my help, but tends to look at some other subjects, like math, in a different manner.
Thankfully he has a good, strong moral compass.  He knows what he wants and what he doesn't want! He is independent and strong willed.  I'm not worried about him conforming to or giving into peer pressure, so that part of school doesn't cause me too much worry.   I'm thankful he has a strong sense of self.
I like the person he is becoming and I like being around him and having him home.  I'm also trying to remove myself from the equation and focus on his best interests.   I guess it's part of him growing up and starting to find his own path in this world.
I'd love to know if you have been at this crossroads with your older child? What did you end up doing?