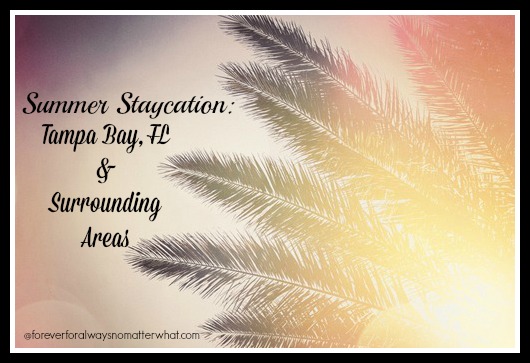 We love to travel and have thoroughly enjoyed traveling around Florida and getting to know our new home state. Â While it is fun to hop in the car and go on an extended vacation, you don't need to travel far to find fun in the Tampa Bay area.
Here is a collection of ideas for staying close to home and having a staycation instead of spending big bucks on a big vacation. Â From the educational to the purely fun, everyone will find something on the list that strikes their fancy.
Free Summer Activities in Tampa Bay
Sunsets at Pier 60 – Free family activities, crafters, and street performers on the pier in Clearwater, plus free movies on Friday and Saturday nights.
Miniature Train Rides – Free the first weekend of each month
The Florida Botanical Gardens – Over 30 acres of cultivated gardens as well as 90 acres of natural landscape. There is even a kids trail to explore.
Port of Tampa Tour – we recently took the tour of the port and we had a great time
Summer Library programs – be sure to check out the library in your neck of the woods. Â There are over 15 locations in the Tampa Bay area and each has something unique to offer for children and adults throughout the summer.
Not to be Missed Things to do in Tampa Bay
Fort DeSoto – Visit an old fort, walk along the beach, fish off the pier
Mote Marine Laboratory – If you have an animal lover this is a must see. Great educational offerings.
Florida Aquarium – great upcoming activities for Father's Day weekend as well as a Fireworks display on the 4th of July.  This aquarium to great to visit any time of year.  There is even an outside splash pad for the younger kids.
Clearwater Aquarium – Visit Winter from a Dolphin Tale, filming for a Dolphin Tale 2 recently wrapped up.
Lowry Park Zoo – Here is our experience at Lowry Park Zoo
MOSIÂ – Museum of Science and Industry, check out the IMAX theatre, a planetarium, Sky Trail ropes course, and the largest children's science center in the country.
Tampa Bay History Center – Take an afternoon and learn about the history of the Tampa Bay area
Glazer Children's Museum – tons of hands on activities for little ones to explore
Ybor City – In the heart of Tampa is Ybor City, the city was started in 1886 when Don Vincent Martinez-Ybor moved his cigar factory to Tampa from the Key West. Immigrants from Cuba, Spain, Sicily came to work in the factories and surrounding areas. Â You can still take a trolley ride on the TECO Line Streetcar System and eat great food. Â Check out the Spaghetti Warehouse and our personal favorite, Tampa Bay Brewing Company. We have only visited during the day as the area is a little less family friendly in the evening.
The Dali Museum – Thursday nights after 5:00pm tickets are $10
South Florida Museum – Visit Snooty the oldest living Manatee in captivity. Museum also includes a small aquarium and a planetarium. Â We often go to the museum in the morning and then head to Anna Maria Island in the afternoon to hit the beach.
Caladesi Island Ferry – Take a 20 minute ferry ride from Honeymoon Island State Park to visit Caladesi Island State Park. Â Hang at the beach, take a nature walk, or go shelling!
Dolphin Cruise – It's an amazing experience to sit on a boat and watch dolphin playing in the wake of the boat.
Deep Sea Fishing – there are dozens of places in the area to try your hand at some deep sea fishing.
What's summer without some baseball? Going to see a minor league team is often a more affordable way to take the whole family. Â Check out the Minor League Baseball Teams in the area:
Tampa Yankees – free kids admission to Sunday home games
Clearwater Threshers
Tampa Baseball Museum – Scheduled to open summer of 2014
More Ideas for the Tampa Bay Area
50 Things to Do with Your Kids in the Tamp Bay Area Before They Grow Up
Visit Tampa Bay
What is your favorite thing to do in the Tampa Bay area?
Looking for Staycation ideas for Central Florida? Visit my friends at EducationPossible for great ideas!
Be sure to checkout the other great Staycation ideas!